| | |
| --- | --- |
| | The abilities of this article may not be used by other authors due to being exclusive to the author's character or group of characters unless their explicit permission is acquired. |
This article, Arc of Activation, is the property of Jet.
Arc of Activation
Kanji

活性のアーク

Information

Type
Users
Arc of Activation (活性のアーク, Kassei no Āku) is a Lost Magic used by the Fairy Tail's former S-class mage, Daemon Strife.
Description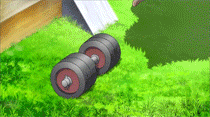 This magic allows Daemon to manipulate the vector values of objects, be they animate or inanimate. He can use this magic to change the speed and/or direction of motion of an object, bring a moving object to rest or make a stationary object start moving.
Ad blocker interference detected!
Wikia is a free-to-use site that makes money from advertising. We have a modified experience for viewers using ad blockers

Wikia is not accessible if you've made further modifications. Remove the custom ad blocker rule(s) and the page will load as expected.