Mages

Dark Mages

Magic

Factions

Guilds

Storylines
Wiki News
January 1st, 2016
The FTF admins would like to wish all the users and lurkers of the wiki a Happy New Year!
December 25th, 2015
Merry Christmas and Happy Holidays from the admins to all you users and lurkers of the FTF!
---
Wiki Disclaimer
The Fairy Tail Fanon does not claim ownership of Fairy Tail or the elements thereof, that is the property of Hiro Mashima and the series publisher. Furthermore, the wiki does not claim ownership of any of the images, videos, or audio files on this website unless otherwise explicitly specified, they are the property of their original creators.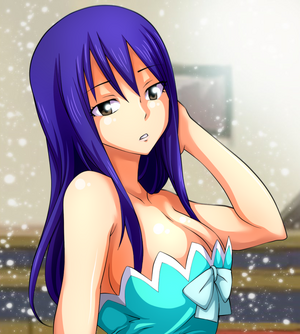 Wendy Marvell (ウェンディ・マーベル, Wendi Māberu) is Silicon-based Human, and a Sky Dragon Slayer Mage. Despite appearing to be phsyically identical to Wendy Marvell, this Wendy is not the 'original' Wendy that was a member of Fairy Tail. This Wendy Marvell however, is a "clone" of the original, created by Dosaman Ghasulchaonlor through the use of Lacrima, the DNA of the original Wendy Marvell, and Arc of Embodiment. She is a main protagonist in Fairy Tail: Dawn.
Purgatory Dragon Slayer Magic (煉獄の滅竜魔法, Rengoku no Metsuryū Mahō) is a Caster Magic, Lost Magic, Slayer Magic, and lastly as well as most obviously, a Dragon Slayer Magic that utilizes an extremely strong type of fire, touted to be considered akin to the flames of hell.
What is (or are) your favorite notable weapon(s) in the Fairy Tail series?