Mages

Dark Mages

Magic

Factions

Guilds

Storylines
Wiki News
January 1st, 2018
The FTF admins would like to wish all the users and lurkers of the wiki a Happy New Year!
---
Wiki Disclaimer
The Fairy Tail Fanon does not claim ownership of Fairy Tail or the elements thereof, that is the property of Hiro Mashima and the series publisher. Furthermore, the wiki does not claim ownership of any of the images, videos, or audio files on this website unless otherwise explicitly specified, they are the property of their original creators.
If you see this, your JavaScript might be disabled or DiscordIntegrator plugin isn't working. If the latter, please contact a wiki administrator.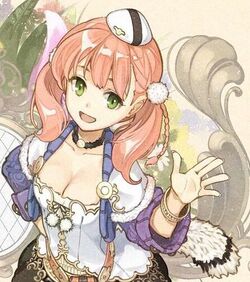 Ariane de Esmolfe (アリアン ド エスモルフ Arian Do Esumorufu) is a young mage of the new legal guild Anaesi Ars. A cheerful and naive girl, Ariane was raised in the hamlet of Pome in the south of Fiore. As a child Ariane was primarily a farmer, working on her father's orchard. Initially, she believed the orchard to be the place she would live out her life, however that belief was changed in an instant. A Dark Guild attempted to take over Pome, and stuck in the main streets of the village Ariane was saved by a group of mages. The saving of Pome galvanized Ariane and helped her decide on becoming a mage.
Ten Spells of the Flaming Gods (炎神の十呪, Enjin no Jūnoroi), are a series of fire spells that grant there user immense power. The high level of difficulty in mastering these spells makes it rather uncommon, and even then it can take years to master a single spell. As such, this magic has been deemed a lost magic, simply for its difficulty to master.