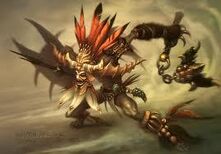 Maslow is a follower of Arkaeus' Church of Darkness and a member of the Black Saints.
History
Maslow is an enigma. Nobody quite knows anything about him or his past.
Personality
Maslow is a bloodthristy warrior. Always seeking battle, Maslow is hardly ever allowed at the headquarters of the Church of Darkness for fear of him picking fights with others. Arkaeus is only one who can restrain Maslow's bloodthristy nature.
Magic and Abilities
Powerful Elemental Magic: Maslow is a master of elemental magic, he can create mighty typhoons, powerful earthquakes, raging infernoes and deadly waves almost instantly. Maslow's mastery of elemental magic is said to be unmatched by any.
Velika Oluja: Maslow creates several powerful tornadoes to destroy his opponents
Snazan Tajfun: Maslow releases a large amount of wind, buffeting his enemies with rocks, earth and the sheer force of the wind.
Flight
Gori Pakao: Maslow creates a powerful wave of fire to incinerate his opponents.
Jaka Zemlja: Maslow causes large spikes to erupt forth from below the ground toward Maslow's opponent.
Caledu: Maslow causes his skin to become harder than stone.
Olujnim Morima: Maslow unleashes a powerful blast of water overwhleming his opponent.
Fantasma: As a member of the Black Saints Maslow was given a small amount of Fantasma's power to increase his own strength and allow him to damage the Spirits summoned by Cue's Sword of Purgatory.
Ad blocker interference detected!
Wikia is a free-to-use site that makes money from advertising. We have a modified experience for viewers using ad blockers

Wikia is not accessible if you've made further modifications. Remove the custom ad blocker rule(s) and the page will load as expected.