Nyx (Spell) is an article created by Shiyugotenshi and therefore you are prohibited from editing this article without his approval. If you would like to use this article in anyway see here.
Nyx
Kanji

ニックス

Rōmaji

Nikkusu

Information

Parent Magic
Users

Nyx (ニックス Nikkusu) is a Noire Class Generation Magic Spell of the Chaos Arts.
Description
By condensing æther up into the air, Atrax makes it appear like a black night sky. The æther is then rained down upon his foe(s) in order to cause extensive damage. Atrax claims this spell to be his most powerful Generation Magic spell.
Adaptations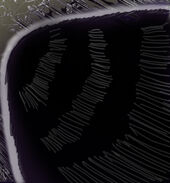 Nyx: Etereo
(空気のようニックス
Kūki no you Nikkusu
) is the Etereo Class advancement of the Nyx Spell. Instead of raining down dense æther upon the foe, Atrax unleashes a wide blast of dense æther. This form is both faster and more versatile, as Atrax can unleash it from any angle, rather than just from above.
Ad blocker interference detected!
Wikia is a free-to-use site that makes money from advertising. We have a modified experience for viewers using ad blockers

Wikia is not accessible if you've made further modifications. Remove the custom ad blocker rule(s) and the page will load as expected.