Ophiuchus
Kanji

蛇遣い座

Rōmaji

Hebitsukai-Za

Alias

Serpent Bearer (蛇ベアラ Hebi Beara)
Nude Fighter (ヌードファイター Nūdo Faitā)

Characteristics

Race
Gender

Female

Hair Color

Purple

Eye Color

Amber

Professional Status

Key Type

Silver

Owner
Previous Owner

Rockins Deallo

Days

Tuesday
Wednesday
Friday
Saturday
Sunday

Affiliation
Previous Affiliation

Rockins Deallo

Personal Status

Status

Active

Way of Combat

Magic
Weapons

Wife, her Snake
Ophiuchus "the Snake-bearer" is a silver key owned by Mirio Tachibana and formerly owned by Rockins Deallo a bandit murdered by Mirio
Appearance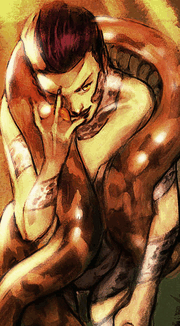 Ophiuchus is a tall woman with a dark purple pompadour hairstyle and piercing amber eyes. On her face she has a scale like design and she wears black lipstick. She wears aboulutely no clothing but she does wear a long strip of bandaging with black markings on it which covers her breasts, neck and right ankle. She wears a black metal shackle on her other ankle and also her snake Wife acts as clothing. She strangely has three fingfers and toes on each hand and foot, on which she has purple claws.
Personality
Ophiuchus is witty, brave and always up for a battle. She is also a stubborn, vindicitive person especially towards her current owner Mirio because he killed her former owner; Rockins. She also has some respect for him
Magic and Abilities
Inhumane Agility and Flexibility: Ophiucus is very agil, and can change the directions of her blows in seconds and also launch severals punchs in a few time. She also can be in strange positions, that are impossible to people, seems that Ophiucus doesn't have bones.
Claws: Due to Ophiuchus' claws, she can cut through most obstacles in her path.
Snake Magic (ヘビの魔法 Hebi no Mahō): Ophiuchus' use of snake magic is unique as she does not summon multiple snakes to attack opponent's but she manipulates the properties of her own pet snake: Wife.
Proportions: The first ability of her snake magic allows Ophiuchus to increase Wife's body size, weight and fangs' size.
Poison: Ophiuchus can also increase the level of Wife's venom, from numbing to corrosive levels.
Scales: Wife's scales can also change colour, material and even become hard as steel on command.They hav been shown to be shot as spikes.
Duplicate: Ophiucus can create duplicates of Wife.
Immortality: As a Celestial Spirit, Sagittarius cannot die, unless he is somehow forced to stay in the Human World for too long without returning to the Celestial Spirit World once; something which would slowly deplete his life force, eventually resulting in his death.
Trivia
Ophiucus is based at Lilith of Shin Megami.
Ad blocker interference detected!
Wikia is a free-to-use site that makes money from advertising. We have a modified experience for viewers using ad blockers

Wikia is not accessible if you've made further modifications. Remove the custom ad blocker rule(s) and the page will load as expected.